Contact Us
Address:Suite 807, TianAn Hi-tech Development Plzaza. No.555 North PanYu Road, PanYu DistrictGuangZhou, China.
Tel:020-39211238
Fax:020-39211286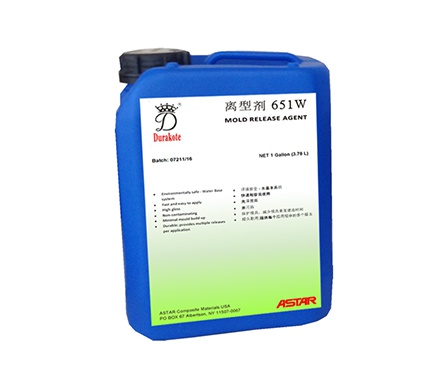 Durakote 651W
Brands:Durakote

Types:

Field of application:

Introduction:Durakote 651W is a environmentally friendly and safe water-based semi permanent mold release agent designed for advanced composite technology. It is especially suitable for the removal of air parts and fan blades. It is especially suitable for the process that needs rapid operation.
Applicable mold type: suitable for all mold surfaces. Such as steel mould, aluminum mold and composite mold.


Suitable resin types: epoxy / prepreg, vinyl ester resin, polyester resin.




Product advantag

es




physical characteristics

l Environmental safety water based system

l High glossiness

l Minimum mold construction

l Pollution-free

l Fast and easy to use

l Durable; each operation can provide multiple off type

Appearance - white liqui

Composition - water based formula

Density - 1.000 g/cc

Application temperature - 90-180℃

Thermal stability - 250℃

Coverage area - 80-100 m2/L per layer

Shelf life - one year

Storage - Storage as non inflammable material (see material safety data sheet)

Be careful:

The polymerized resin used in Durakote 651W will react when it is preheated. Please store it in a cool place (not near the hot mold). Durakote651W can be used directly without mixing and shaking.




Mold cleaning:

It is necessary to clean the mold before operating the product.
The mold must be clean and dry before use. If necessary, mold cleaning must be done (e.g. sand, sand blasting or dry ice). If possible, then use the solvent type cleaning agent to wipe the mold again, for example, the mold cleaning agent Durakote PMC-600.




If a semi permanent release agent has been used on the surface of the mold, Durakote 651W can be covered again. But if you first remove the products you used before, you will get the best release effect.

Application - spray use:

Before spraying Durakote 651W products, make sure the mold surface is clean, dry and remove all previous dirt.




Durakote 651W can use spray gun (for example: SCHUTZE SPRITZTECHNIK spray gun W3/FZ-Duo). For more information, please contact us at any time.




Most of the operation of the most suitable spray gun is SCHUTZE W3/ FZ-Duo, 90 degree fan and 0.5UM nozzle spray gun.




mould

temperature

(deg C)

air pressure

(Bar)

Liquid pressure

(Bar)

Spray gun

(ml/min)

Number of layers

Solidification

time

(Minute)

180

4

1.0

200

4

2

150

3

1.0

160

4

4

120

2.5

0.8

140

5

7

90

2

0.5

110

6

12




* there is no need for interval between layers, but only on the last layer.




* the parameters in the table are different according to the specific equipment.

1. adjust the parameters of the spray gun, and test the amount of spray required at the concave or convex edges of the die.




2. the product is directly sprayed on the surface of the preheated die from 100-200mm. Do not disperse the product and adjust the angle of the spray gun to cover the surface of each layer.

There is no need to wait between the 3. layers.

4. at least 90 degrees.

5. for the new mold, it is recommended to play two layers of demoulding agent.

6. do not spray too much, products do not drop to the mold.

7. for longer difficult areas, lengthened spray guns can be used.




Patch:

When the release is difficult, a layer of Durakote 651W will be applied to the difficult area.




Tips:

The mold must be thoroughly cleaned before use. After the first two layers are removed, a layer of release agent can be applied.